The United States Twirling Association announces the cancellation of the 2020 U.S. National Baton Twirling Championships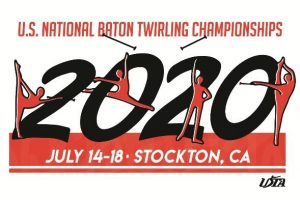 In consideration of the global coronavirus (COVID-19) pandemic, it is with a heavy heart that the United States Twirling Association announces the cancellation of the 2020 U.S. National Baton Twirling Championships, Festival of the Future and U.S. PreTrials, scheduled for July 14-18 in Stockton, California.
USTA's Board of Directors made this difficult and disappointing decision in the best interest of our members, our families and all who attend our National Championships. The board believes this cancellation is necessary in light of the current and increasing crisis in our country. We need to keep the safety and wellbeing of our athletes, coaches, judges, volunteers, spectators and the general public as our priority.
We recognize that cancellation of the National Championships is a great disappointment to our members and, indeed, it is a sentiment we share. However, the board will explore with USTA leadership, state councils and regional councils, different initiatives designed to ensure that the 2020-21 competitive season specifically, as well as our organization and sport more generally, are the best and strongest they possibly can be when the current COVID-19 crisis subsides. Those initiatives include iTwirl-style clinics at locations across the country, featuring guest clinicians, classes for athletes, coaches and parents, possible opportunities for CAS evaluations, individual and group critiques, and more. Information about those exciting events will be coming soon.
As we all continue to follow the crisis and adhere to governmental mandates on behavior to remain safe, USTA remains proactive and will continue to serve our members during and following this crisis.
The decision to cancel this national event is unprecedented, but absolutely appropriate in this extraordinary situation. Trust that we will remain dedicated to our members and the fulfillment of our mission, vision and philosophies as an organization. Your personal wellbeing is our priority.
We have many intra-related decisions to make due to this action and its impact on the 2020 season in its entirety. Some of the anticipated concerns are listed below. We appreciate your understanding and patience as we work on all the situations and concerns at hand. We will continue to update our members as more information becomes available.
REFUNDS
Entry Fees collected by the national organization – Those fees will be refunded after May 1. For cancelled local/state/regional entry fees, please contact the contest director(s) of those events.
NOTE: The U.S. Trials entry is on hold pending the release of information from the WBTF.
Membership Fees – will not be refunded as members have and will continue to receive services from USTA.
Sanction Fees – will not be refunded but you will have a credit for the 2021 season if your event was cancelled. The USTA Member Services Department will track those credits.
EVENTS
All sanctioned events between March 16 and April 19 were previously cancelled.  The national events are now cancelled. USTA's Board of Directors will monitor the current situation and any new developments for purposes of assessing the viability of local, state and regional events that are currently scheduled to take place between April 19 and the end of this year's twirling season.
INSURANCE
Member insurance (accident insurance) offered via your membership is still in effect.
FAQs and USTA FORUM
USTA has created a Frequently Asked Questions page. Please see that page for additional information and resources. We have also created a forum at https://groups.google.com/forum/#!forum/ustwirling where members can ask additional questions.
We thank you for your understanding and support as we deal with this unprecedented emergency and keep our members and their wellbeing as our top priority.